Cladwinds are more than another window company.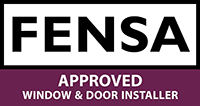 We believe when you deal with Cladwinds Ltd you are not simply talking to just another double glazing company. That's because we strive to be the best at what we do.
From the day we started our business in 1985 we knew the only way to grow and succeed was to treat the customer as the most important person we must satisfy.
Cladwinds develops and trains its people, and we structure our systems so that excellence is built into everything we do. Cladwinds is committed to the continual improvement of all our products and services. We are proud of the consistency of the standards achieved by our manufacturing plant, Cladwinds is also one of the earliest FENSA registered installation company.